The Bear Went Over The Mountain
Top
Ride along with our friend, Bernie Bear, as he visits a mixture of natural destinations such as the desert, a waterfall, the ocean, and of course, a mountain, all in the quest to see what he can see! Children will delight in choosing Bernie's destinations, actively participating in directional word visuals, and helping Bernie photograph the local wildlife. Each scene is full of interactive activities and adorable critters, and Bernie loves to snap photos. Children will see a mixture of cartoon and real photos of all the animals they encounter: eagles, owls, bats and bunnies, snakes and scorpions; all in their natural habitats. Lessons on good stewardship of the environment are recurring throughout each game, as children are encouraged to recycle and plant trees. Highlighted words to the classic "the Bear Went Over the Mountain" let children read or sing along. In addition to going OVER the mountain, Bernie Bear teaches other directional words such as ACROSS the Dessert, UNDER the ocean, UP the tree, IN the cave, even AROUND the moon! Kids will enjoy the charming adventure, and enjoy collecting photos, fish, moon rocks, crystals, and more!
Introducing Bear Went over the Mountain:
16 different scenes with learning activities for early childhood development.
Teaches directional words - this vocabulary enhances a child's ability to give and follow directions as well as to speak precisely.
One of the skills a child should master in kindergarten is the ability to describe the location of an object using positional or directional words.
Practice singing along with the highlighted words in this favorite nursery song.
Aids in word recognition with spoken and written names of animals.
Teaches geographical differences and the diversity of wildlife found within each.
Encourages a sense of stewardship in caring for our environment and natural habitats of wildlife creatures.
Builds phonemic awareness (the ability to hear and manipulate the smallest unit of a language that conveys meaning).
Students will relate music to various geographical and language arts vocabulary.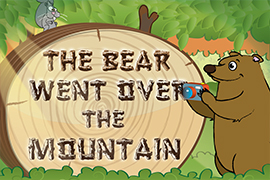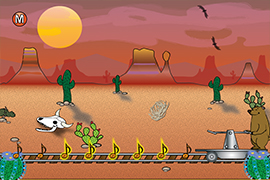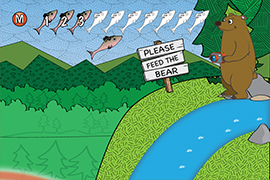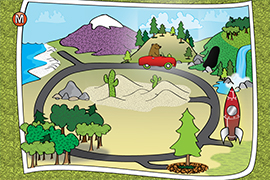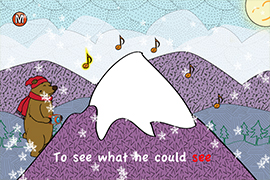 Big Top Circus
Top
The Circus is in town! LoeschWare introduces Big Top Circus, an educational app that embraces the thrills and follies of the Circus. Expect a little of the unexpected as your little one gets positive reinforcement for exploring, matching, counting, color and shape recognition, and having fun. Every one of our five highly interactive scenes are full of opportunities for discovery and learning.
A true stand-out among educational apps, Big Top Circus has great appeal for kids, enhanced by artwork that evokes the vivid sights and sounds of the circus. Who says learning isn't fun? LoeschWare's Big Top Circus, a three-ring spectacular!
Introducing Big Top Circus:
Appropriate for pre-toddler to preschool: Ages 10 months to 4 years.
Counting: Leaping tigers teach little ones to count.
Colors: Spectacular ponies illustrate color recognition.
Shapes: The elephant brigade marches out the shape matching game.
Play: Send in the clowns! Our Big Top clowns have their own ring full of interactive silly stunts just for fun. Brilliant colors, energetic music, and more fun than a barrel of monkeys! Don't miss tapping the green balloon for some balloon popping fun.
Matching: As the evening winds down, your child can help all the baby animals get back to their mommies & daddies in our nighty-night matching game.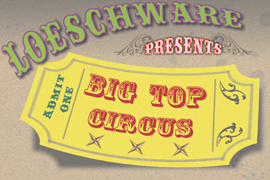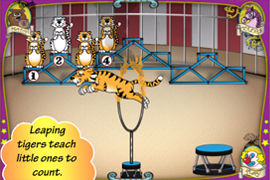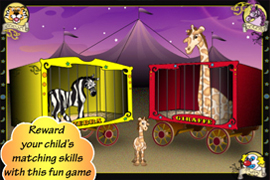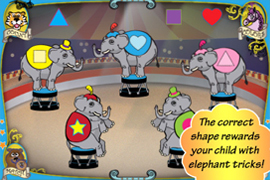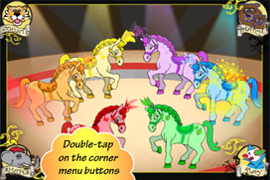 Word Wheel
Top
Help teach your young one how to read while having fun. Word Wheel is a unique, interactive flash card app that gives little fingers constant action with two spinning, side-by-side wheels that require matching a picture to a word!
Introducing Word Wheel:
3 age-appropriate levels for toddlers, preschoolers and kindergartners.
Flash cards are a very effective part in achieving early literacy in young children.
2 categories, animals and objects, will keep your child engaged in learning through word association skills.
A customization tool lets the parent insert personal pictures of the family pet, Mom & Dad, or a favorite toy right into the wheel.
Record a special message in your own voice with accompanying pictures as a reward for making correct matches, or enjoy the built-in animations that congratulate a job well done.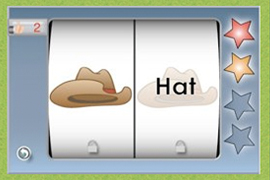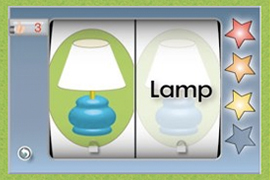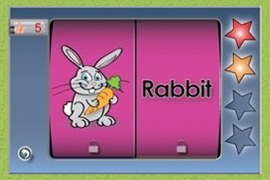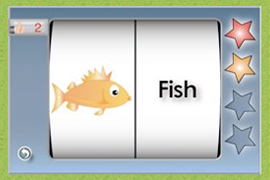 My ABC Train
Top
My ABC Train will put your little one on the right track to learning while having fun along the way. 26 interactive animations illustrate the entire alphabet. Slide My ABC Train forward or backwards to explore the animations or your own custom pictures!
Introducing My ABC Train:
Designed for preschoolers, but fun for any child 1 year and up.
Touch a "graffiti" style letter to hear it pronounced.
Builds preschool spelling skills and alphabet recognition for toddlers.
Toot the horn, puff the steam and operate the lights on the engine, accompanied by authentic locomotive sounds.
Be sure to help your child find other things in each car that start with that letter. For example, the "A" car features an alligator, who happens to be an artist painting an apple! See detailed list below.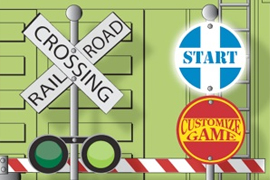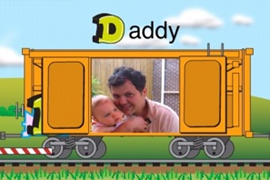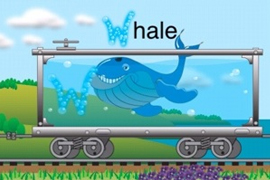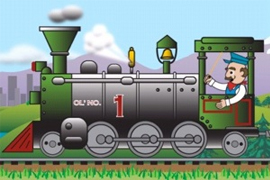 Old MacDonald's Farm
Top
E-I-E-I-O! An App Store hit. Musical sorting game based on the childhood favorite sing-a-long.
Introducing Old MacDonald's Farm:
Designed for toddlers, but fun for any child 1 year and up.
Drag and drop animal puzzle pieces build fine motor skills.
Builds animal and word recognition skills for toddlers.
Sing along with Old MacDonald.
Audio cues engage players throughout the game.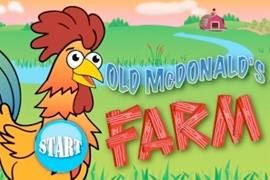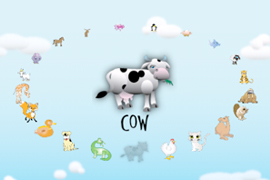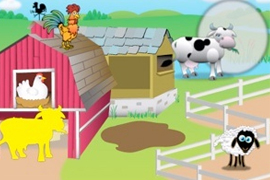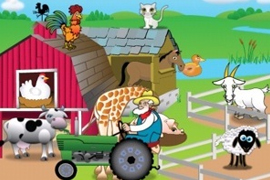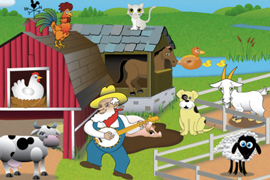 Five Little Monkeys
Top
A fun, interactive musical counting game based on the popular rhyme that might keep your little monkey from jumping on the bed!
Introducing Five Little Monkeys:
Five Little Monkeys is designed for young children from 1 year and up (toddler and preschool).
3 original music types to play and sing to: Country, Rock and Pop.
Touch or "Shake" the Monkeys to watch them bounce off the bed!
Press the highest number in the left corner to add the monkeys back to the bed. Watch them zoom back into action!
Interact with objects throughout the bedroom by touching them.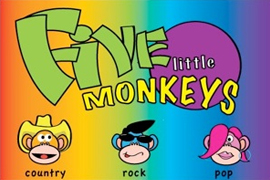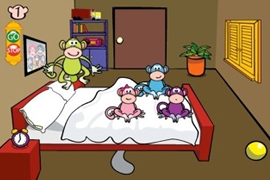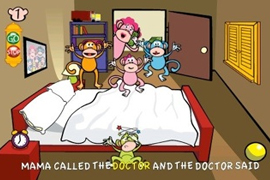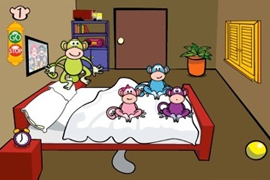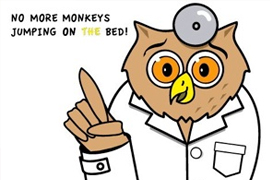 LoeschWare Team
Top
Fun with Family
LoeschWare was founded by a brother and sister who share an interest in children, art, education, design, and iPhones. All music and artwork is original: designed by us! We have created two top-selling educational iPhone apps for children: 5 Little Monkeys and Old MacDonald. They have both been deemed an "Essential iTunes App" to own on your phone, iPod, or iPad.  More recently, we have branched out into the Amazon, Barnes & Noble, and Google App Store.
Ryan Loesch, Co-Founder
Ryan's inspiration for starting LoeschWare comes from his innate interest in his children and his passion for iPhones and Apple.  His role in the company is a direct reflection of his experience at a large financial institution contributing to software design and implementation. He manages information system requirements and is the liaison between business and technical groups within the organization.  Ryan appreciates being recognized as an expert in highly complex projects, but believes being recognized by his own kids is much more important. That is why all of his apps are officially endorsed by his children.
Wendy Loesch Watts, Co-Founder
Wendy is a creative director with over 10 years of diverse experience in the marketing and design field. Watts holds a Bachelor of Fine Arts in Art Education magna cum laude from Georgia State University and a bachelor's degree in studio arts from the University of Georgia. Before LoeschWare, she held various positions in marketing ranging from an international manufacturer to a high end graphic design firm and at Calvin Klein in New York City. Before that,  she taught art & design in the public school system in Atlanta, Georgia. Wendy is excited to be utilizing her art education degree in a modern way for LoeschWare.
Wendy adores teaching her identical twin daughters art & science found in the everyday world around us and being married to her inspiring husband John Watts.
John Watts
An MFA graduate of University of Georgia's Art program with an emphasis in sculpture, John has exhibited his work in shows across the country and internationally, most recently at the Arkansas Arts Center's internationally juried Toys Designed by Artists show in 2009. In New York City, John was the production manager for a design firm that created storefront window displays for 5th Avenue flagship stores. Currently John is working as an interior designer, and has devised a signature look for a string of veterinarian clinics in Nashville.  Teaching design classes at O'More College,  John has a recently commissioned outdoor artwork on the campus.   When approached to work on LoeschWare's team, John enthusiastically agreed to join in, hoping to use his skills to help children learn and have fun at the same time, the way it should be.
Emma Loesch
Emma is LoeschWare's left –brain, in charge of all things analytical and financial. Her expertise as an accountant at a major restaurant chain gives her the skills to easily handle accounting tasks and financial reporting. In addition, Emma has experience in an early childhood learning environment managing large groups of preschoolers and implementing developmentally appropriate early childhood curriculum.
Emma enjoys being married to Ryan and raising their two children.
Support & FAQ
Top
For technical issues, please check our FAQs below or email us: support@loeschware.com. We respond to customer inquiries very quickly.
My ABC Train UPDATE Version 1.08
We customized the letters with our own pictures, but now our son wants the cartoon drawings back. Is there an un-do button?
Choose "Customize," pick the cars you had customized, and switch the Enable Button to "OFF."
Or you can just delete the app on your device and  then reinstall from iTunes on your computer.
Q: Why can't I hear any sound?
A: Be sure to turn the ringer/volume up once the app starts and that the phone isn't set to mute (on the left side of your iPhone).
Check the Ring/Silent switch button on the upper left corner of your iPhone and make sure that the orange dot is not showing. iPhone User Guide.
Q: Why don't I have any sound with the my app?
A: Sometimes a simple restart of your iPad will resolve an app that decided to turn itself to mute. If this doesn't work, a reinstall should work.
Just make sure you are logged in under the same account from which you bought the app.
Delete the app off of your iPad by deleting the icon. Then act as though you are going to purchase it again in the App Store & press "Buy". Apple will not let you buy the same application twice (under the same account). Apple Support Link.
It will then say "You already own this app, would you like to download it again for free?" Hit "Okay" and resume the download process.
Q: I purchased the app for my iPhone/iPad/iPod before. Can I re-download my app for free?
A: Yes. Re-download the application with the same iTunes login, and you will not have to purchase it again. Apple Support Link.
Q: How do I use the iPad's side switch to bring back the sound in the app?
Privacy Policy
Top
This Privacy Policy describes the information collected by LoeschWare LLC through our mobile applications and website and how we use that information. Last updated March 14, 2012.
Collect Any Information with Our Applications? No way!
When you download and use our mobile applications, we don't require you to provide any information and we don't collect any information from you or about you, your device, or your use of our mobile applications.
Collect Information of Children? No way!
Our website and mobile applications comply with the Children's Online Privacy Protection Act. We don't collect personal information from children under the age of 13, and if in the event that a user identifies himself or herself as a child under the age of 13 through a support request, we will not collect, store or use, and will delete in a secure manner, any personal information of such user.
When You Request Support — You May Send Us Email
We allow users to contact us if they have questions about use of our mobile applications. If you submit a support request, we may receive your email address and other information you provide related to your support request ("Support Information"). We use Support Information only to provide support to you.
Links to Third Party Sites
We may provide links and/or connections to third-party web sites (such as Youtube.com) or services from our website (we don't allow links within our mobile applications). We are not responsible for the privacy practices or content of these third-party sites.
Changes to this Privacy Policy
We will update our Privacy Policy as needed to keep up with the Children's Online Privacy Protection Act.
Contact Us
If you have any questions or concerns regarding this Privacy Policy, please send us an email at support@loeschware.com.